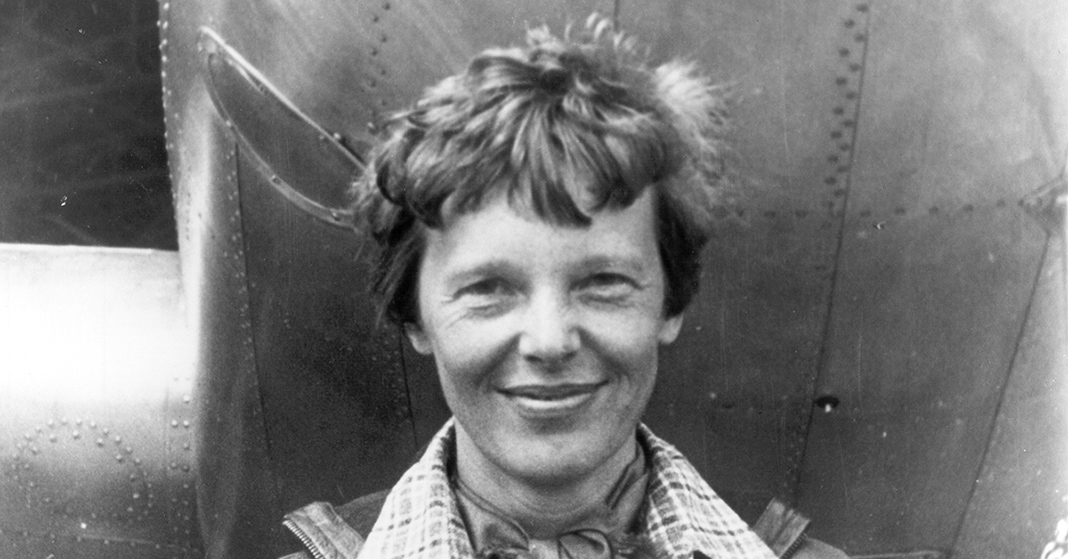 July 24th is Amelia Earhart Day! An aviation pioneer who broke numerous records, Amelia Earhart is a beloved figure in American history and an inspiration to adventurous boys and girls everywhere. Celebrate her day with your kids this summer, and discover ten cool facts about Amelia Earhart.
1. Amelia Earhart was born on July 24, 1897.
Her mother disagreed with society's emphasis on raising quiet, prim little girls; she encouraged her daughters to engage in fun and activity.
2. Amelia Earhart's childhood nickname was Meelie.
Meelie was an adventurous child and often had her little sister Grace (nicknamed Pidge) following her around as she climbed trees, hunted rats, and collected insects.
3. Amelia Earhart built her own roller coaster.
With her uncle's help, Amelia built a wooden ramp, similar to a roller coaster she remembered from a St. Louis vacation. She zoomed off the homemade ramp in a wooden box, crashed, and got up bruised but excited, exclaiming to her little sister, "Oh, Pidge, it's just like flying!
4. Amelia Earhart was the sixteenth woman to get her pilot's license.
When she was just twenty-three, Amelia Earhart took her first airplane ride. It was just a few hundred feet, but from then on she was determined to learn to fly.
5. Amelia Earhart was the first woman to travel across the Atlantic by plane.
On June 17, 1928, she and a couple of male pilots flew from Newfoundland, Canada, all the way over to Wales, which took about 21 hours. Since Amelia had no experience in using plane instruments, she was simply a passenger on this flight. The pilots did give her the added task of keeping the flight log. This still proved historic and brought Amelia a hero's welcome at home and a visit to the White House.
6. Amelia Earhart was the second person and the first woman to fly solo nonstop across the Atlantic.
Charles Lindbergh was the only one who had flown across the Atlantic Ocean solo, but Amelia Earhart proved herself equal to the task. Powerful winds battered her little plane during this flight, which lasted fourteen hours and fifty-six minutes. She also contended with mechanical issues before finally making it to a pasture in Northern Ireland.
7. Amelia Earhart flew solo halfway across the Pacific.
Breaking yet another record, Amelia was the first pilot to fly alone from Honolulu, Hawaii, to Oakland, California. Near the end of the uneventful flight, she listened to the radio broadcast of the Metropolitan Opera.
8. Amelia Earhart disappeared over the Pacific Ocean. 
In 1937, Amelia attempted to fly around the globe with one crew member, Fred Noonan. She completed most of the global journey, a distance of twenty-two thousand miles, and had just seven thousand to go.
A meeting with the USCGC Itasca, a ship that was supposed to guide Earhart to a small island for refueling, didn't happen because of navigation and communication problems. Lost over the Pacific, Earhart and Noonan disappeared.
Since no one could find them or the plane, Amelia was legally declared dead in 1939, but it's possible that remains recovered from a nearby island years later may be hers.
9. Amelia Earhart is the subject of many books.
Check out illustrated books for kids including Who Was Amelia Earhart? by Kate Boehm Jerome, I Am Amelia Earhart by Brad Meltzer, and Amelia Earhart, Young Air Pioneer by Jane Moore Howe.
10. You can celebrate the amazing Amelia Earhart!
To celebrate Amelia Earhart Day, your children can make a simple plane with a clothespin and a couple of craft sticks. Encourage them to paint their creations yellow to match Amelia's first plane, the "Yellow Canary." From paper or felt, your kids can also make a brown pilot's hat and aviator's goggles like those Amelia wore.
• • • • •
Rebecca is a work-at-home freelance writer, novelist, wife, and the mom of two bright-eyed little ones. She credits her success in writing and her love of books to her own mom, who homeschooled three kids from pre-K through high school.