When I was young, my parents had a history book called the Adams Synchronological Chart or Map of History. It was actually a gigantic foldout timeline. I enjoyed the wonder of unfolding the leaves of the timeline as it stretched all the way down our hallway and into the living room. The book began history at creation and tracked events up to the time it was published (late nineteenth century). Strands that represented various nations would grow, be absorbed, and then suddenly be dissolved.
Recently my wife and I agreed that I will teach our daughter Heritage Studies 2 next fall. I'm so excited about sharing my passion for the past with my daughter. Since I enjoyed timelines when I was learning history, I'm particularly excited that BJU Press uses timelines to develop children's historical thinking.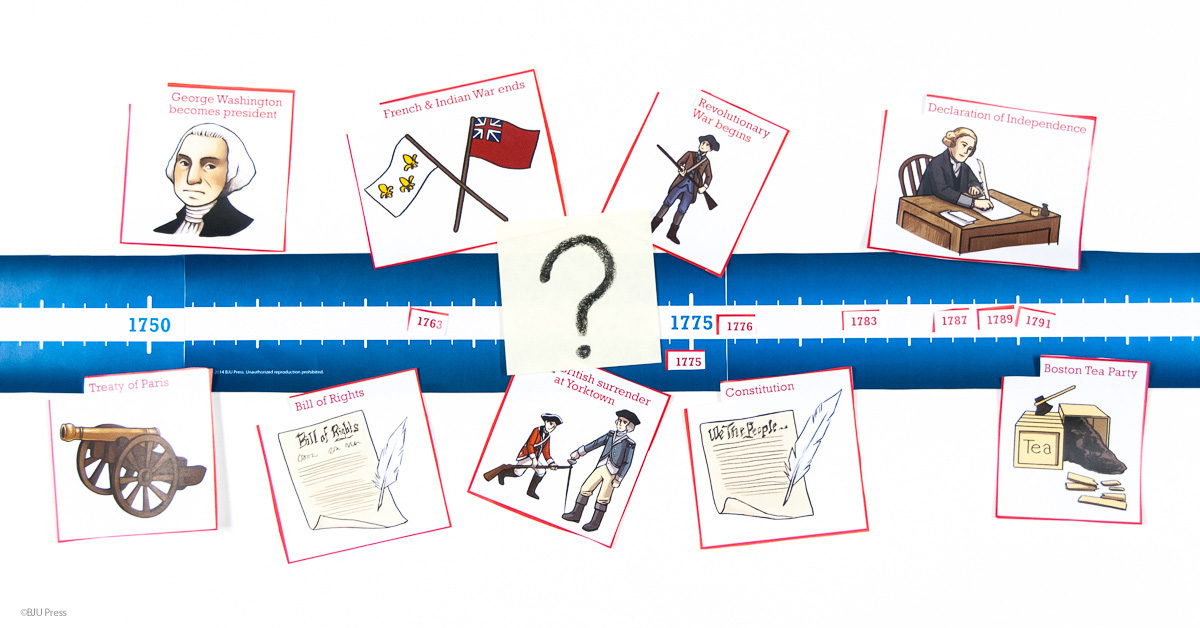 Building Understanding
Often, children struggle with history because it's taught as an assortment of dates, names, and places. A nationwide report card on eighth graders' knowledge of US history shows that only 18 percent demonstrate proficiency in that subject. When children encounter the past in little bits and pieces, they cannot get a sense of the time period they're studying. As a result, they have difficulty remembering the facts, but they also have no basis for developing the critical thinking skills that studying history encourages.
Timelines provide a visual representation of people, events, and places. Most learners, but especially visual learners, can more easily see the connections between the three elements.
Take, for example, this simple timeline of the Revolutionary War from Heritage Studies 2. Here the broad outline of the war is overviewed in a simple, easy-to-grasp way. Children can see the order of events, and the inclusion of the French and Indian War suggests a possible cause-effect relationship.
Building Thinking
When students see connections to other events, they understand the past. That understanding creates a platform for them to begin developing critical thinking. Once events are arranged chronologically on a timeline, children can begin to visualize potential cause-and-effect relationships. They can ask questions about the influence historical figures may have had on each other.
But the most important benefit of the timeline is that it helps children think through the order of events and their relationships to the other events.
Building Teaching
Timelines also help the teacher. When I'm teaching my daughter, I can use timelines to test her understanding of the time period we're studying. Instead of testing my daughter with a lot of multiple-choice questions, I plan to give her a timeline to fill out. I can relieve any stress she might have by calling it a "timeline activity" instead of a quiz, but ultimately the result will be the same. I will be able see how much she understands of the history that I've taught. In the end it will be a far richer test than if I had just asked, "When did the Revolutionary War begin?" I will find out whether she can think sequentially as well as remember events from the past.
Consider using timelines to help your children build their understanding of history. If you need some help with resources, check out our elementary Heritage Studies program.
Save